Hygiene & Safety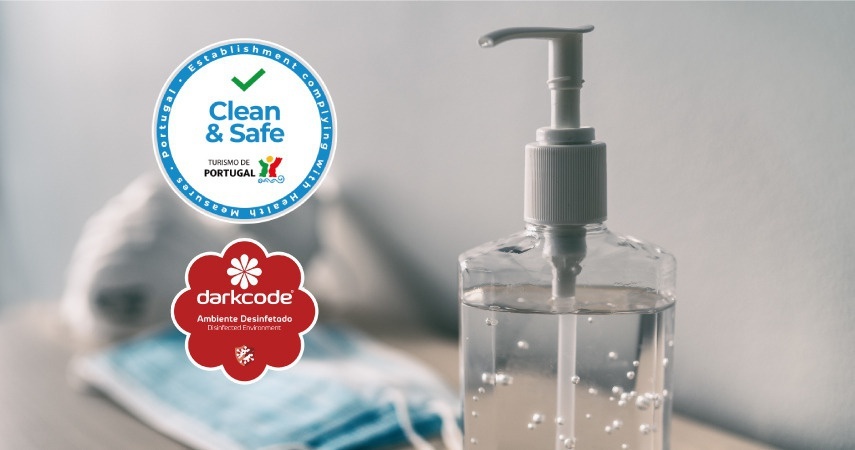 CLEAN and SAFE: our commitment
The safety of our customers and employees is a priority for our Company, so we have strengthened the hygiene and cleaning procedures of our hotels according to the recommendations of the publich health authorities ( D.G.S & O.M.S) , with  the  Tourism Board of Portugal  (Clean & Safe Seal)  and in collaboration with our consultant specialized in hygiene & safety.
What to expect:
Darkcode Certification:
- Certified hygiene and nebulization carried out in all rooms, public and service areas of all hotels with virucide and fungicide solutions, specific and preventive for COVID-19, before its reopening to the public;
Clean & Safe Certification:
Availability of disinfectant gel dispensers at hotel entrances and traffic areas such as bars and restaurants;
- Frequent and regular disinfection of surfaces and areas of greater contact in all common areas (incl. lobbies, elevators, door handles, public bathrooms, bars and restaurants, sun loungers and pool area, Spa's, buffets, kids' club, etc.);
- Enhanced disinfection of hotel rooms and  surfaces of greater contact (e.g. television controls, door handles, tables and other surfaces, bathrooms, etc.);
- Frequent aeration of common areas and rooms between reservations, maintaining 1 day interval between customer occupancy;
- Adoption of distancing rules and prevention measures in the restaurant and bar areas, menus and adjusted meal plans (e.g. breakfast and snacks available for take away/ grab & go, etc...);
- Specific training, by a certified external company, of our employees for the implementation and regular supervision of hygiene protocols;
- Employees properly equipped with personal protective equipment and their uniform, always keeping in mind the compliance with the practices recommended by dgs and WHO, regarding hand hygiene, respiratory etiquette, social conduct and daily temperature control, etc.